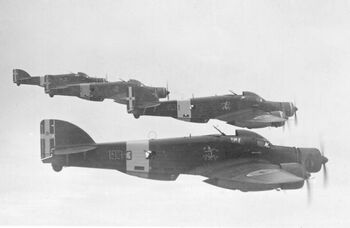 The Savoia-Marchetti S.M. 79 was a medium bomber used by Italy during World War 2.
Development
Edit
Though often derided, as were most Italian arms in World War ll, the SM79 Sparviero (Hawk) was a fine and robust bomber that unfailingly operated in the most difficult conditions with great reliability. The prototype. fitted with various engines and painted in civil or military liveries, set various world records in 1935~36, despite its mixed structure of steel tube,light alloy, wood and fabric. Built at unprecedented rate for the Flegia Aeronautica, the 79-I established an excellent reputation with the Aviecion Legionaria in the Spanish civil War, While other Stormi laid the basis for great proficiency with torpedoes. Altogether about 1,200 of all versions served with the Regia Aeronautica, while just over 100 were exported. Most exports were twin~engined 79B versions. but the Romanian built 79-JR was more powerful and served on the Russian front in 1941-44.[2]
Specification
Edit
Origin: SIAI "Savoia-Marchetti"; built under licence (79 II) by Aeronautica Macchi and OM "Reggiane"; (79 JR) lndustria Aeronautica Romana.
Type: 4/5~seat bomber, torpedo bomber and reconnaissance.
Engines: (I) three 780hp Alfa-Romeo 126 RC34 nine cylinder radials (II) three 1,000hp Piaggio P.X| RG40 14 cylinder two-row radials (one batch, 1,030hp Fiat A80 RC41); (79B) two engines (many types); (79-JR) two 1.220hp Junker Jumo 211Da inverted-vee-12 liquid-cooled.
Dimensions: Span 69ft 6 1/2 in (21.2 m); length (I) 51ft 10 in; (ll) 53 ft 1 3/4 in (16.2 m) (B -JR) 52 ft 9 in; height'(II) 13 ft 5 1/2 in (4.1 m) Weights: Empty (I) 14,990lb (6800kg); (ll) 16,755lb (7600kg); (-JR) 15,86Olb (7195kg); maximum loaded (I) 23,100|b ('IO.500kg): (ll) 24.192lb (11,300kg); (-JR) 23,788 lb (10,470 kg).
Performance: Maximum speed (I) 267mph; (II) 270mph (434km/h); (B) 255mph; (-JR) 276mph; initial climb (typical) 1,150ft (350m)/min; service ceiling (all) 21,325~23,300ft (7000m); range with bomb load (not torpedoes), typical, 1,243 miles (2000km).
Armament: (Typical) one 12~7mm Breda-SAFAT fixed firing ahead from above cockpit. one 12.7 mm manually aimed from open dorsal position, one 12.7 mm manually aimed from rear of ventral gondola and one 7'7mrn Lewis manually aimed from either beam window; internal bomb bay for up to 2,200lb (1000kg) or two 450mm torpedoes slung externally; (798 and -JR) no fixed gun, typically three/five 7.7 mm guns and bomb load up to 2,640lb (1200kg).
History: First flight (civil prototype) late 1934; service delivery (I) late 1936; (ll) October 1939; final delivery (Ill) early 1944.
Users: Brazil, Iraq, Italy (RA, CB, ARSI), Jugoslavia, Romania, Spain (Nationalist).[2]
References
Edit
↑ 2.0 2.1 Gunston, Bill. The Illustrated Directory of Fighting Aircraft of World War II. Salamander Books Ltd. 1988. ISBN 0 86101 390 5