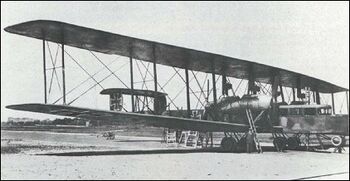 The
Staaken R VI
was a heavy bomber built by the Zeppelin company for use during World War 1.
Description
Edit
In aviation no ordeal can compare with the demands of a seven-hour flight aboard the colossal Zeppelin Staaken R-series bomber; the boldest design of the Great War. The name of Count von Zeppelin is usually associated with dirigible airships, but this heavier-than-air warplane was just as striking as anything else made by the company. In long-range flights over Britain, the Staaken made history by conducting the first strategic bombing missions.[2]
When the Great War began, Count von Zeppelin developed heavy bombers which he expected to strongly influence the conflict. Zeppelin worked on three aircraft, all with distinctive slab sides and biplane tail, before turning to the R—series (R for Riesenflugzeug). The first production R series aircraft was delivered in June 1917. The distinctive lines of Zeppelin's bombers were unforgettable. Several companies turned their industrial prowess toward constructing these giant bombers, and even a two-float seaplane version was built. The Zeppelin carried out missions over France and Russia in support of the German army, but its most famous missions were the 11 raids over Britain, often accompanied by Gotha bombers. The Staaken crews developed new navigation techniques, including the use of radio, and dropped huge 1000-kg bombs, never seen before. The British had to divert large numbers of guns and fighters to face the new threat. This caused more disruption than the actual bombing, which did little damage. The Allies were highly impressed by the Staakens, and hurriedly developed similar aircraft like the Handley Page series of bombers.
The final R-series were built after the war, only to be banned by the Allied Control Commission and scrapped in 1922.[2]
Specification
Edit
Model: R.Vi
Crew: 7
Engine: 4 X Maybach Mb.IV, 183 kW
Weights;

Empty Weight: 17463 lb (7921 Kg)
Take-Off Weight: 26121 lb (11848 Kg)

Dimensions;

Wingspan: 138 ft 5 in (42.2 m)
Length: 73 ft 6 in (22.1 m)
Height: 21 ft 8 in (6.3 m)
Wing Area: 3573.61 Sq ft (332 m2)

Performance;

Max. Speed: 84 mph (135 km/h)
Ceiling: 14150 ft (4320 m)
Range: 497 miles (800 km)

Armament: 4 X 7.92mm machine-Guns, 2000kg Of Bombs[1]
References
Edit
↑ 2.0 2.1 Template:AOTWCC Group 14 Card 25 (Vintage and Veteran: Zeppelin Staaken R)